When:
2017-06-09T00:00:00-07:00
2017-06-10T00:00:00-07:00
Where:
Glennville Rodeo Grounds
196 Pascoe Rd
Glennville, CA 93226
USA

Cost:
4 for $40 (Pick 1/Draw 1)
Contact:
Team Roping Producer: Paul Mullins, Thunderhead Ranch
818-314-0635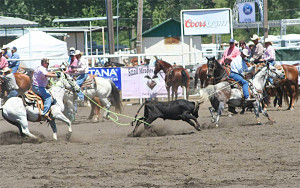 Friday, June 9th is the Annual Small Miracles Benefit Team Roping. Signup begin at 9 am, roping will start at 10 am. Breakfast concessions will be open at 7 am. There is $4000 dollars of added money up for grabs! It's a 4 in 1…4 for $40 (Pick 1/Draw 1; #5,#7,#9 and #11 all in one pot). Overnight camping is free and on a first come, first served basis. Please follow instructions from our parking personnel. Campgrounds will open on Thursday at 12 noon.