The Greenhorn Mountain Veterans Association was conceived in September 1948 by Bob Robinson and Hal Duvall. Since its inception that fall, the GMVA has been a non-profit organization seeking to "promote social activity and community welfare" in the mountain communities of Woody, Granite Station, Posey and Glennville. This common goal has taken many different directions over the years.  From community dances, barbeques, Christmas parties and Easter Egg Hunts, one thing has remained constant, the Glennville Round-Up Rodeo!  Our PRCA Round-Up Rodeo has brought the community together to provide top-quality rodeo entertainment to Kern County. Many rodeo legends have competed in our little arena and the GMVA greatly appreciates all the PRCA has done to help us promote the All-American sport of Rodeo!
In October of 1949, the GMVA purchased twenty-three acres from Charles Gann.  Plans were drawn up, and construction started on the arena, which was completed in June of 1950.  The arena grandstands were started that same year but were not completed until 1956.  One year later, we proudly welcomed Cotton Rosser and the Flying U Rodeo Company as our stock contractor for the annual rodeo.  Cotton and his crew have been loyal friends for many years!   The designs for the Veteran's Hall began in 1953, and the structure was completed in 1961.  In the years since then, we have sought to expand and improve the grounds and facilities in Glennville, building and maintaining all of the structures that can be seen today around the rodeo grounds.
Purchase this amazing new book, created by Susan Stone. "Chasing the Dream".  Commemorating 75 Years of the Greenhorn Mountain Veteran's Association. 
Click on the picture below and it will take you to the order site.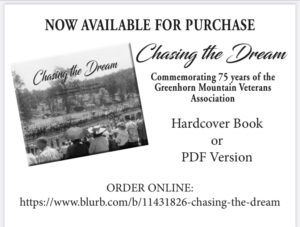 The GMVA supports such worthy groups as the Thomas Midnight Pewitt Memorial Scholarship Fund and Ranch Rodeo, which pays tribute to a young member of our community whose life ended tragically and much too soon.  We are also honored to partner with the Lauren Small Benefit, a non-profit organization dedicated to the memory of Lauren P. Small which uses its funds to fight childhood cancers.  And since its beginnings, the GMVA has been active in supporting our local blood bank, helping to provide life-saving blood to members of our community as the need arises.  We also are there to support veterans and their families in need. Our facilities are used for local school activities and graduations, church and community functions, 4-H activities, junior rodeo, and ropings.  We continue to seek ways to support and honor the veterans of our past, as well as help and encourage our active and retired servicemen of today's military.
Today, the GMVA continues its mission to "promote social activity and community welfare" in the little town of Glennville.  From skydivers landing in the arena to kick-off another rodeo and music videos filming in our bucking chutes, to church programs and community dances, the GMVA has been around to create a safe place for families to come and celebrate the beauty of the Greenhorn Mountains and the legacy of the American West.  It would be our pleasure to have you join us this June as we host the "Biggest One Day Rodeo in California."