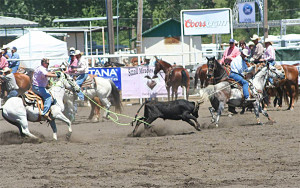 Small Miracles Benefit Roping
Prizeline includes Saddles & Buckles!
Friday, June 10th
Produced by Thunderhead Ranch
Contact: Paul Mullins (818) 314-0635
Sign Ups at 9 am, roping starts at 10 am
$4000 added money
4 in 1….4 for $40 (Pick 1/Draw 1; #5, #7, #9 and #11 all in one pot)
$1000 added per division.
GMVA Jackpot Roping
Saturday, June 11th
Sign Ups at 8 am, Roping begins at 9 am
Open Draw 3 for $25; Pick 1/Draw 1 #7 Hdcp. $30; #51/2 Pick or Draw 3 for $30.
Lauren P. Small Memorial Barrel Race
$1000 added money!
Produced by West Coast Barrel Racing Assoc. (209)538-7680
www.westcoastbarrelracing.com
Time Runs only at 5 PM
Barrel Racing begins at 7 PM
Co-Sanctioned by WPRA & ACBRA
Buckle Awarded!!
Please contact event producers directly for more information or to sign up in advance. This is an ACTRA sanctioned event.
Free parking and camping available on a first come/first serve basis. Camping spots will be assigned by parking personnel. Please follow their instructions.